E. O. Stennes Weymouth MA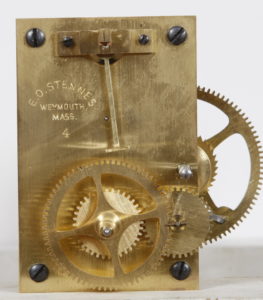 The clock presented on this page is well known to us, and in fact, I purchased it directly from the maker very shortly after it was completed after the Estate of Elmer Stennes was sold at public auction in Cape Cod MA by Richard Bourne in 1976.  At that sale, Foster Campos purchased the "patterns" and molds to continue the tradition of making these reproductions, Jim Loew of Plaistow NH bought the semi-finished clocks in various states including a number of Girandole clocks that were completed and sold in the late 1970's. Finally, Dick Swan bought all of the parts and odds and ends and to this day Ebay is filled with these parts and pieces and so on. As Elmer died in 1975 this clock is the "LAST" series by Stennes and some of the features that characterize this work is the use of Kilbourn & Proctor movements die stamped Elmer Stennes. On the lower section of the rear plate you will note the die stamp: made in USA by K&P. K&P was William Kilbourn and J. C. Proctor. Bill Kilbourn was a friend of mine and was a treasure chest of knowledge about New England Clockmaking. The cast lead pendulum bob with the "reverse" ES initials, pendulum spike and the bezel with removable brass balls. All of the beautiful cast brass hardware, keystone, and pendulum tie down are all made from patterns fabricated by Elmer, and you may not realize that he was a "pattern" maker and worked in the Coastal New England Shipyards during WWII. 
Back in the late 1970's I happened to be visiting with Herschel Burt at his newly opened gallery "Church Antiques" in Exeter MA when Jim walked in the front door with this incredible girandole clock to hang it on the wall "on consignment" in the gallery. The amazing thing about these clocks is the quality of the gilding and the glasses. The workmanship is far superior to anything that I had ever seen. There were only 6 of these at the Stennes estate auction and this one is number 3/6.  I am pleased to announce that we recently reacquired this wonderful clock in a deal with one of clients, and I'm happy to document it once again, help correct the misidentification from previous listings, and find a new home for it where it will provide years of pleasure for the new owner.  Enjoy the photos, as this is a beautiful girandole clock and if you don't have $500,000 to buy a mint original one made by Lemuel Curtis, Concord from 1815 this clock will certainly make you happy at a small fraction of the price of an original.
For more information about this clock, please contact us