Simon Willard & Son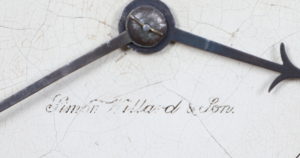 At the end of the Federal Period "stencil, fancy" and elaborate paint decorated furnishings were the new "high style" in American Decorative Arts.  While most commonly seen in seating furnishings: "Hitchcock Chairs" for example, stencil decoration appears in banjo clocks C. 1820 – 1840's.   These clocks are quite rare and seldom seen.  Perhaps the most famous of this group are the presentation timepieces made in Boston by Simon Willard & Son.  The clock we are offering for sale is from a family that owned the clock for generations.  This clock is from the  300 Acre Estate of the Bulkley Family of Washington CT. 
Description:  Boston Circa 1830  stenciled front weight driven banjo clock made by Simon Willard & Son.  The presentation case with gilded acorn finial on top and bracket base measures 40 X 10 3/4 X 4 inches overall.  A hinged cast brass bezel opens to a heavy painted iron dial signed "Simon Willard & Son"  together with a pair of barbed steel hands.   Behind the dial is a single bridge, eight day weight driven timepiece with recoil escapement.  The movements mounts to the case with a pair of filister head through bolts in a diagonal orientation.  The half round, or "torus" frames are adorned with floral stencil decoration and retain a pair of original geometric reverse painted glass tablets.    The throat frame with "PATENT" in gilt letters at the bottom.   The background colors are light yellow borders, mustard yellow, with blood red, and "Kelly"  green accents.  The lower tablet with center aperture allowing the oscillation of the pendulum to be visible.  A pair of brass side arms flank the clock.  The bracket base with stencil decoration terminates in a gilt acorn finial. A cast lead weight with "duck bill" hook powers the clock.  
Condition:  This is an original clock with an untouched signed dial.  There are no extra holes behind the dial or the movement.   The movement has been professionally overhauled in our shop and it is in excellent running condition.  Both glasses are original with some minor in-painting and touch up that are to be expected in a banjo clock that is 190 years old.  Minor losses to the stencil decoration and the left side of the bracket has darkened.   The left side arm has 2 missing diamonds, and right side arm has one missing side arm. 
A related example recently sold at Public Auction: Lot 1203, Skinner Sale 3364T for $33,750.
Literature References: Paul J. Foley "Willards Patent Time Pieces"  pages 137-138, Brooks Palmer "Book of American Clocks"  plate 143.  Wallace Nutting "The Clock Book"  plate 96.