Warranted by E. Taber, No. 1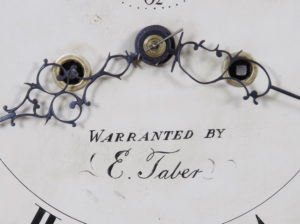 Elnathan Taber was born in 1768 and died in 1854.  He served as an apprentice to Simon Willard and inherited the tools and goodwill from Willard after he retired.   This example retains the original makers "instruction label" pasted on the back of the waist door.   The high style "Roxbury" case with fluted columns in the bonnet fitted with brass stop flutes.    The arched top bonnet has applied  fretwork, chimneys and ball and spire finials.  The sides panels of the hood are fitted with  tombstone shaped side lites. These facilitate  visual access to the works. The bonnet door  opens to a painted iron dial that attaches directly to the movement without the use of a "false" or intermediate plate.   While many Willard School "Roxbury" clocks are found with imported dials from Birmingham England, this dial is clearly of local Boston origin.    Note the American flag on the sailing ship in the arch.  The clock was designed with an automaton function as the ship in the arch bobs back and forth in synchrony with the swing of the pendulum.  This is a very rare and desirable feature in an Early American clock.  The background scene behind the ship is an arched concave plate that is paint decorated to form a coastal landscape along with a pair of sailing ships in the background.
The thumb molded waist door with quarter fan inlay is flanked by fluted quarter columns with brass stop flutes and capped by brass capitals.    The base panel with corresponding quarter fan inlay continues to a step molded base with applied bracket feet and a shaped apron.   The case is numbered "1" with original scribe marks in both the bonnet and the case.
The clock works are high quality eight day striking brass powered by a pair of original "tin can" weight shells filled with sand.   The pendulum is suspended with a wooden shaft in the manner of Simon Willard.
Condition: The case has been professionally conserved and refinished. Minor repairs to the original fretwork.  The feet are original.   Losses to the original makers instruction label.  Period finials & original weights.  Dial has been relined and in-painting at the dial posts.
SOLD