Martin & Son New York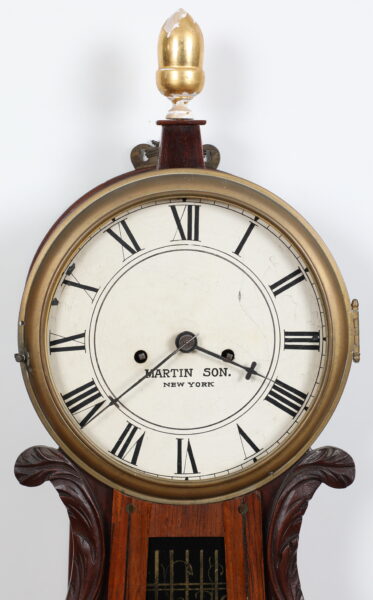 Empire Mahogany Striking Banjo Clock C. 1830's.  This clock has an incredible oversized weight driven T&S movement.  It was once part of the  clock collection at the Newport Clock Museum, Newport New Hampshire.   Back in the 1970's my old friend and mentor, Herschel B. Burt (Adams Brown Company, Church Antiques Exeter NH et. al) was commissioned to sell the collection. As a long time friend, customer, and owner-to-be of Adams Brown Company, he invited me to help him sell the collection. The clock pictured on the Post Card is from the Newport Clock Museum and the very same clock that we sold over 40 years ago to a NYC Executive who had an upper East Side Apt on Central Park. I clearly remember the door man giving me all kinds of grief when I pulled up the the building and started walking into the lobby.  Last year I had the chance to buy it back and here it is !
Note the "Oculus" with the reverse glass painting & the name Peter Laughlin. Finally, check out the picture of the Post Card from the Museum that shows the clock hanging on the wall !  h. 37 w. 12 d. 5 in.
SOLD