Josiah Smith, Reading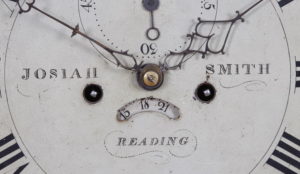 In Machmer's "Berks County Tall Case Clocks 1750 – 1850″ Josiah Smith is listed as a clockmaker  at work in Reading C . 1810.  Smith advertised in the Reading Alder " a maker of house clocks and pocket watches in the city of Reading next door to Conrad Fesig's tavern. ….. " Smith also noted that his shop was next door to the renowned Reading Cabinetmaker: Daniel Rhein. By association, there is a good chance that the maker of this case was in fact Rhein. In fact the documented cases made by Rhein utilize the same horizontal backboard construction. … The clock stands at a bold 100 inches tall and is constructed of the finest native Walnut with rich grain and flame figure.  Remarkable is the fact that the case retains both its original feet and finials as well. On page 221 of Dr. Whisker's "Pennsylvania Clockmakers & Allied Craftsmen" is a closely related example by Benjamin Witman of Reading in an identical case.
The eight day brass striking movement is coupled to a locally painted iron dial with rolling moon and calendar aperture.   Note the unusual shape of the cutout in the lower plate which was not doubt an attempt to conserve precious brass.  This is an original clock with an untouched signed American painted iron dial, original weights, pendulum, & winding crank !
SOLD